EDUCATORS, WE ARE HERE TO SUPPORT YOU
DISCOVERY Children's Museum is the only place in southern Nevada putting all children's needs for play, exploration, inspiration, belonging, and unique learning experiences right where they belong, and that's FIRST — above all else.
At Home DISCOVERIES
The doors to our virtual learning experiences are never closed.
DISCOVERY on Wheels
Hands-on, interactive health science programs delivered directly to your classroom!
Camps
Join museum educators for fun-filled camp programming and creative education that focuses on Science, Technology, Engineering, Arts, and Math.
Field Trips
Teachers, supplement those rockstar lesson plans with a hands-on, interactive, field trip to DISCOVERY!
From their first day of school to their first A-HA moments.
We put our kids first.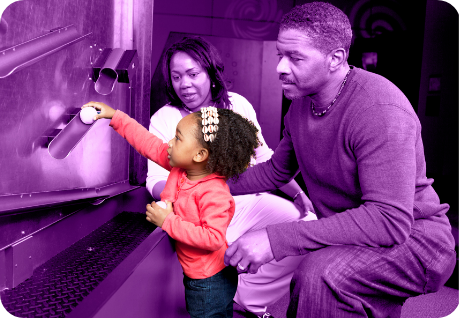 That's a FIRST made possible by the DISCOVERY Children's Museum.
As a premier educational partner in the community, we will champion collaboration that inspires every child to become an innovative thinker through the joy and wonder of hands-on DISCOVERY.