Volunteer
Volunteers are vital members of the DISCOVERY Children's Museum team. They help with everything from cleaning and stocking our state-of-the-art exhibits to helping host special events. We are always looking for energetic, enthusiastic people to join our team. If you are searching for a unique and fun work environment while also making a difference in the lives of children, consider applying to join one of our volunteer programs today!
Teen Volunteers
Teen Volunteers are high school students ages 14-17 who are interested in gaining community service hours or work experience by supporting the Museum.
Youthworks Internship
The YouthWorks Internship is a program designed for high school students ages 15-17 years old. This program affords teens a chance to gain educational enrichment, learn new skills, and start an employment portfolio while developing personal and professional growth experiences.
Adult Volunteers
The Adult Volunteer Program is for individuals 18 years and older who are looking for a unique and fun place to spend their valuable free time. We have a variety of roles available.
Community Volunteers
Community Volunteers are the driving force behind DISCOVERY Children's Museum's ability to meet the educational needs of southern Nevada's children.
Become a VIP
Our volunteers are priceless! They add value to our guests' experiences, bring new ideas to the table, and connect the Museum to the larger southern Nevada community.
From their first day of school to their first A-HA moments.
We put our kids first.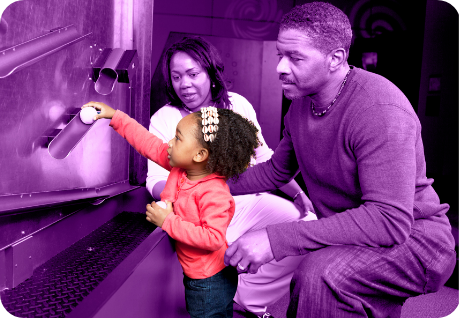 That's a FIRST made possible by the DISCOVERY Children's Museum.
As a premier educational partner in the community, we will champion collaboration that inspires every child to become an innovative thinker through the joy and wonder of hands-on DISCOVERY.