As you consider your visit to DISCOVERY, we hope you'll notice our commitment to serving children and families from all backgrounds and abilities, and if there is anything we can do to make your visit more enjoyable, please don't hesitate to ask! You can reach our Visitor Services team by calling (702) 382-3445 or emailing reservations@discoverykidslv.org.
Hours of Operation
Mondays – Saturdays: 10 a.m. to 5 p.m.
Sundays: 12 noon to 5 p.m.
Open on Mondays only during summer break. Closed on Mondays after August 1st.
DISCOVERY Children's Museum is closed on the following holidays:
Easter
Thanksgiving
Christmas Eve
Christmas Day
New Year's Day
From their first day of school to their first A-HA moments.
We put our kids first.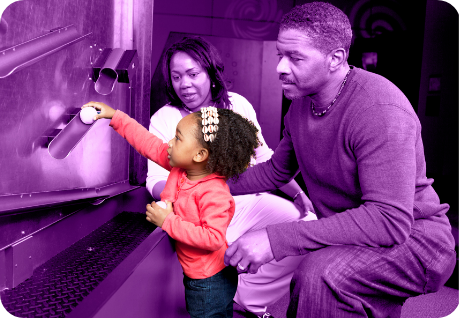 That's a FIRST made possible by the DISCOVERY Children's Museum.
As a premier educational partner in the community, we will champion collaboration that inspires every child to become an innovative thinker through the joy and wonder of hands-on DISCOVERY.