FAQ
Welcome to our FAQ page. Here, we've compiled answers to the most common questions about our unique, three-floor interactive museum in Las Vegas. Our goal is to help you plan your visit and ensure your experience is as enjoyable and enriching as possible. Please don't hesitate to explore the information provided below.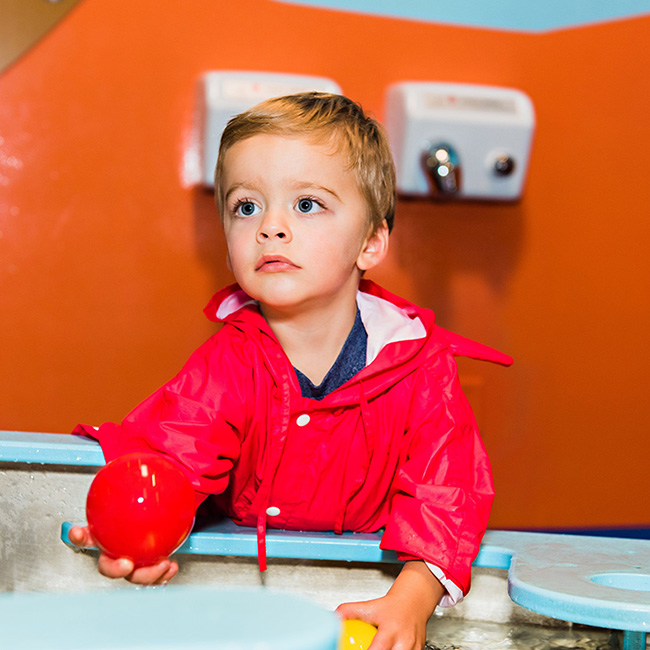 Are reservations required to attend the Museum?
No, admission tickets can be purchased online or in-person at any time.
What are the hours of operation?
SUMMER HOURS: Mondays–Saturdays: 10am–5pm | Sundays: 12pm–5pm
**Open Mondays during holidays, summer, winter, and spring break. Closed on Mondays after August 1st.
*Closed on the following holidays: Easter, Thanksgiving, Christmas Eve, Christmas, New Year's Day
Is the Museum closed on holidays?
The Museum is closed on the following holidays:
Easter, Thanksgiving, Christmas Eve, Christmas, New Year's Day
Is there free parking?
Parking is free in the DISCOVERY parking garage. Click here on our map to make sure you're in the right place.
And don't forget to bring your ticket inside the Museum with you so you can get it validated before you go! The ticket validation scanner is located at our front desk/Visitor Services area.
How much do you charge for admission?
All patrons ages 1 and up require an admission ticket for entry. The price for admission is $13.50 for local residents and $16.00 for non-residents.
Do you offer a military discount?
Yes, our discounted military rate is $11.00 per person for you and your group with a valid active or veteran military ID.
Do adults have to pay to come to the Museum?
Yes, all patrons ages 1 and up are required an admission ticket for entry.
During a visit to the DISCOVERY Children's Museum, adults are invited to explore the exhibits together with their little ones. As a not-for-profit organization that subsidizes each entrance, we count on admission dollars to keep the Museum open.
Can I drop off my kids and play?
No, children must be accompanied by a parent or caretaker at all times.
Do older kids need to have an adult present?
Kids older than 13 do not need to be accompanied by a parent/caretaker to play in the Museum but the adult must be in the building.
Can I visit the Museum without a child?
Yes, adults are welcome to visit the Museum but must leave an ID at the door if they are not accompanied by a child.
Do you sell food/snacks at the Museum? Can I bring my own food/snacks?
Refreshments can be purchased at our DISCOVERY Store and are permitted in designated break areas; you may also bring your own food/snacks for individual use. Unless you have a birthday party room reservation, you WILL NOT be allowed to bring cake, desserts, or large platters of food into the Museum. Party rooms may be rented upon availability.
What is Museums for All Program?
Individuals with a valid EBT, SNAP, WIC card or a foster family license, qualifies for $3.00 admission up to four tickets. Out-of-state cards are accepted.
What age range is the Museum designed for?
The Museum is designed for ages 0-12 years old.
Are strollers allowed in the Museum?
Yes, you may bring a stroller to the Museum, stroller parking is located next to Toddler Town on the Windsong first floor.
*DISCOVERY Children's Museum is not responsible for any lost or stolen items left unattended.
Can I store my luggage in the Museum?
For safety reasons, we cannot store your luggage.
Do you have lockers?
No, we do not have lockers.
Is the Museum accessible?
The mission of DISCOVERY Children's Museum is to foster a welcome, vibrant, and inclusive environment where all are invited to engage in playful and educational experiences that ignite a lifelong love of learning. Please visit our Accessibility & Amenities page for more information.
Can I bring my dog?
DISCOVERY Children's Museum recognizes the right of people with disabilities to be accompanied by their service animals. People with service animals will be allowed full access to all areas. Service animals must be on a leash and credentialed and must be in the control of the person with a disability or his/her companion.
Do you have unanswered questions? Send us a message!
From their first day of school to their first A-HA moments.
We put our kids first.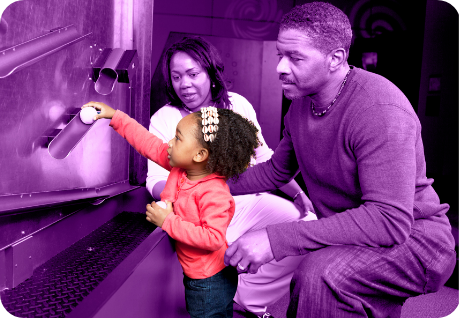 That's a FIRST made possible by the DISCOVERY Children's Museum.
As a premier educational partner in the community, we will champion collaboration that inspires every child to become an innovative thinker through the joy and wonder of hands-on DISCOVERY.