Virtual Tour
Now, you can take a tour of DISCOVERY Children's Museum without ever even leaving your house! Our friends over at Taurion Media put together this exciting virtual tour experience that allows guests to explore our three floors of heart-pumping, brain-boosting, curiosity-quenching fun, adventure, and DISCOVERY!
For an even more fun experience, take out your virtual reality device and experience the excitement as if you are there.
And…there's even a fun game built right into the tour. While browsing around, see if you can find the ten hidden leprechauns. Anyone who does will get 10% off their online ticket purchase!
From their first day of school to their first A-HA moments.
We put our kids first.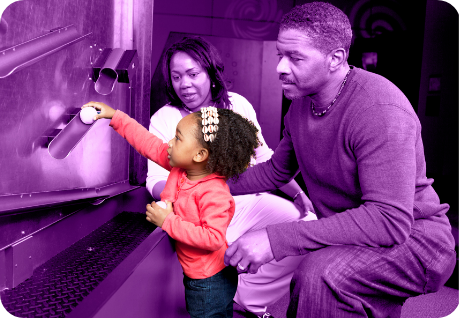 That's a FIRST made possible by the DISCOVERY Children's Museum.
As a premier educational partner in the community, we will champion collaboration that inspires every child to become an innovative thinker through the joy and wonder of hands-on DISCOVERY.