Donation Requests
DISCOVERY Children's Museum actively supports other non-profit groups by donating tickets to qualified organizations for fundraising.
Because of the number of requests for donations, we cannot honor every request. Please review the guidelines below to determine eligibility for your organization and note the instructions for requesting donations.
Community Support Policy
We only make donations to federally licensed 501(c)(3) non-profit, charitable agencies geared toward education and children.
Requests must be received at least 60 days before the event date to be considered.
Donations must be picked up at the Museum Tuesday – Saturday from 10:30 am – 4:30 pm at the Visitor Service desk.
Our customary donation is four admission tickets to DISCOVERY Children's Museum. These tickets are valid during regular operating hours.
DISCOVERY Children's Museum Does Not Make Contributions To:
Organizations that discriminate by race, color, creed, gender, or national origin.
Sponsorships or donations for individuals or teams, for example, walk-a-thons, contests, pageants, or ambassador programs will not be considered.
Individuals, including those seeking scholarships or fellowship assistance, will not be considered.
Fraternal groups.
Political, labor, or fraternal organizations or civic clubs; this includes advocacy, government agency, and political entities.
Religious organizations for sectarian purposes
Sports, athletic events, or athletic programs
How To Apply
If your request falls within our key community investment areas and benefits residents in Nevada or (is related to education and children), please complete and return the request form with a cover letter "must be on the charitable organization's official letterhead" along with a copy of the 501(c)3 certification. All requests and supporting documents must be received at least 60 days before the event. This will allow adequate time to review and reply. Because of the volume of requests, we cannot answer inquiries about requests by phone; Not all requests will be honored.
From their first day of school to their first A-HA moments.
We put our kids first.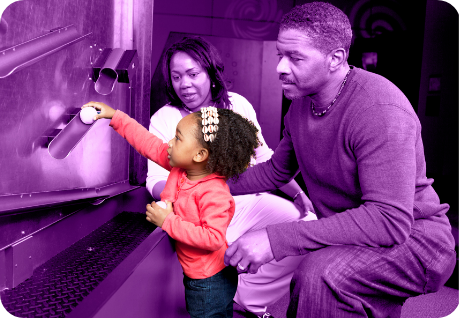 That's a FIRST made possible by the DISCOVERY Children's Museum.
As a premier educational partner in the community, we will champion collaboration that inspires every child to become an innovative thinker through the joy and wonder of hands-on DISCOVERY.