Discovery On Wheels
Delivered directly to the classroom!
DISCOVERY Children's Museum brings hands-on, interactive health science programs directly to your classroom with our DISCOVERY On Wheels program. Our highly trained educators offer specific lesson plans that follow national, state, and local curriculum standards. Click here to see how our programs align with Nevada Academic Content Standards or keep reading to learn more about each of our DISCOVERY On Wheels programs by grade level.
Register Your School & Classes
Full and partially subsidized DISCOVERY On Wheels programs are available. Call the Museum for more information or click below to apply today!
Programs are not confirmed until you receive a written confirmation form. With your confirmation, you will also receive additional information regarding the program, including curriculum alignments, and the amount of space and set-up needs for each program.
The curriculum targets Kindergarten – 5th grade elementary school students in Clark County, public, charter, and private schools. Each program can accommodate approximately 30 participants, up to six programs a day at the same school. More than one program can be scheduled at a school site on the same date to accommodate entire grade levels wishing to participate.
A professional Museum educator will facilitate the program along with everything needed for the learning experience. We are currently taking reservations and space is limited – see the information below on how you can register your school and classes.
Take advantage of high-quality programming without the worries of transportation and buses. In the intimate setting of your classroom, expose your students to high quality, anatomically accurate models and "real" medical equipment.
PRE-K: Let's Get Moving! – Movement of the Human Body
How do our bodies move? Explore the bones and muscles that work together to help us walk, bend, stretch, and play. Learn how our bodies are fueled by oxygen through the practice of simple breathing exercises and yoga poses.*
*DISCOVERY on Wheels educators are trained mini yogis, yoga for kids certified.
KINDERGARTEN: Let's Eat! – Food & Nutrition
Explore various food groups, and learn why a balanced diet is part of a healthy lifestyle. Learn how the digestive system works to turn the nutrients from our food into energy!
FIRST GRADE: Bright Smiles and Clean Bodies – Dental Health & Hygiene
Proper hygiene helps us maintain healthy bodies. Learn about dental care, proper hand-washing techniques, and how to prevent the spread of germs.
SECOND GRADE: Making Sense of Our Senses – The Five Senses
Every day, we use our senses to explore the world around us. Learn how the sensory organs send information to the brain, allowing us to experience sight, sound, touch, taste, and smell.
THIRD GRADE: Wonderful ME! – Cells & Genetics
The human body is an amazing machine! Take a closer look at the smallest living unit of the body, the cell, using Microslide Viewers. Learn how genes contribute to our physical appearance while recognizing the traits that make us unique.
FOURTH GRADE: Young at Heart – Circulatory & Respiratory Systems
Through the use of anatomical models, learn how the circulatory and respiratory systems function. Examine the heart, blood vessels, and lungs, and learn about the different components of blood.
FIFTH GRADE: What's Up Doc? – Medical Professions & Equipment
How does a doctor determine a diagnosis? What are all of those gadgets and machines used by doctors? Through hands-on investigations, explore real medical equipment used to monitor blood pressure, measure lung capacity, read x-rays and more!
From their first day of school to their first A-HA moments.
We put our kids first.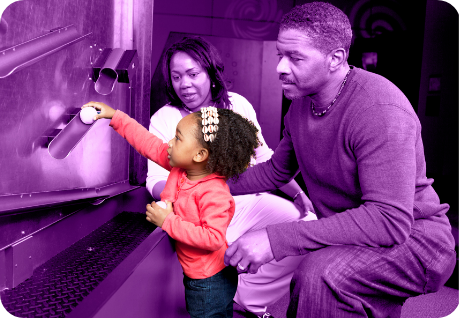 That's a FIRST made possible by the DISCOVERY Children's Museum.
As a premier educational partner in the community, we will champion collaboration that inspires every child to become an innovative thinker through the joy and wonder of hands-on DISCOVERY.