Venue Rentals
Let DISCOVERY bring out the kid in your guests! Book our DISCOVERY Hall, one of the museum's three floors, or the whole venue for your special event. We've helped host corporate meetings, holiday parties, family reunions, and even galas. We can help you throw a one-of-a-kind event that's sure to leave an impression on your guests.
VENUE RENTALS INCLUDE
Event space for up to five hours (including set-up and clean-up)
Standard house lighting
Round banquet tables (5′ diameter) and standard ceremony chairs as available
Set up and strike of DISCOVERY Children's Museum equipment
Special Events Manager and Facilities Representative
Prep space and ice, pending availability
Use of sink and refrigerator, as space permits
Guest Wi-Fi, as available
Basic janitorial services: vacuum, spot cleaning, restrooms, trash removal
Access to DISCOVERY Children's Museum's Preferred Vendors List
For more information on private event rentals, please email rentals@discoverykidslv.org
Facility fees do not include the following services: additional live demonstrations, additional staff or security, on-site A/V technician or additional A/V equipment, food or beverage service, linens or decor, risers, dance floors, DJ's, high boys or additional tables and chairs. The Special Events Manager can provide you with the Museum's Preferred Vendors List to coordinate add-ons. Damage to DISCOVERY Children's Museum property and excessive janitorial services will be charged, if applicable.
Book a room, a floor, or the whole Museum!
Venue rentals are not confirmed until you receive written confirmation.
From their first day of school to their first A-HA moments.
We put our kids first.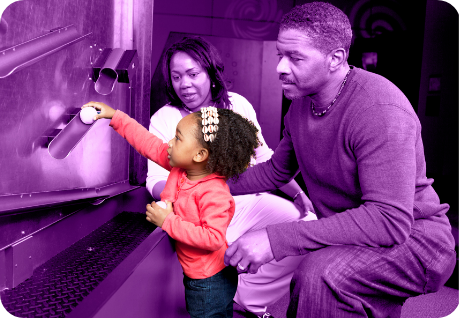 That's a FIRST made possible by the DISCOVERY Children's Museum.
As a premier educational partner in the community, we will champion collaboration that inspires every child to become an innovative thinker through the joy and wonder of hands-on DISCOVERY.