BECOME A VIP
Our volunteers are priceless! They add value to our guests' experiences, bring new ideas to the table, and connect the Museum to the larger southern Nevada community.
The success and sustainability of your volunteer program will depend on your ability to retain and celebrate volunteers and maintain momentum for your project. At DCM we pride ourselves on recognizing the hard work and commitment that volunteers make to our facility each week. As volunteers accumulate hours, they become eligible to receive several different DCM rewards.
All Volunteers: DISCOVERY Store Discounts – 40% off Food & Beverage and 10% off Retail
25 Service Hours: 2 DISCOVERY Lab Workshop Tickets, or, Appreciation Gift Bag
50 Service Hours: 4 DISCOVERY Admission Passes, or, Dining Gift Card
100 Service Hours: DISCOVERY Store Gift
150 Service Hours: Inventor Level Membership
From their first day of school to their first A-HA moments.
We put our kids first.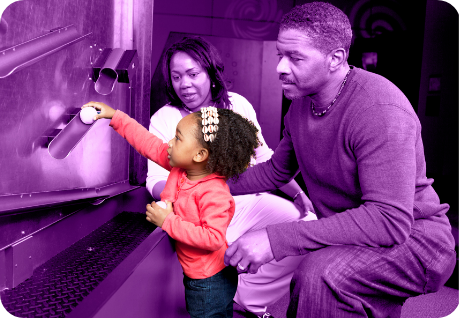 That's a FIRST made possible by the DISCOVERY Children's Museum.
As a premier educational partner in the community, we will champion collaboration that inspires every child to become an innovative thinker through the joy and wonder of hands-on DISCOVERY.