COMMUNITY VOLUNTEERS
Community Volunteers are the driving force behind DISCOVERY Children's Museum's ability to meet the educational needs of southern Nevada's children.
Community Service Projects
We encourage corporations and community organizations to bring groups of 6 to 10 volunteers to engage young people in science, technology, engineering, art, and math (STEAM) activities, during our special programming events, throughout the year. We offer half-day (4-hour) or full-day (7-hour) activities with no experience or training necessary. Please contact our Volunteer Services department for a complete listing of opportunities.
Educating our Teens
Do you or your organization have a special skill set or expertise you would like to share with teens in our volunteer and YouthWorks internship program? How about sharing your education or life journey with them? Let us know and we can help facilitate a class or talk. Our teens get a tremendous amount of value from learning new skills and being introduced to new subjects. A conversation can truly change a life!
If you would like to join our amazing team, please submit your application and the Volunteer Services & YouthWorks Coordinator will contact you to discuss current opportunities. You may also email, Volunteer@DiscoveryKidsLV.org, or call (702) 382-3445 ext. 110, for more information.
From their first day of school to their first A-HA moments.
We put our kids first.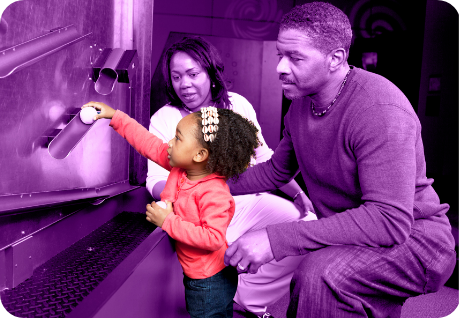 That's a FIRST made possible by the DISCOVERY Children's Museum.
As a premier educational partner in the community, we will champion collaboration that inspires every child to become an innovative thinker through the joy and wonder of hands-on DISCOVERY.