Youthworks Internship
YouthWorks is an all-inclusive internship program for current high school students ages 15-17 years old. This program provides youth with opportunities to enhance their own lives through education and a unique opportunity to gain work experience, building a community service record for high school credit and college portfolios.
Established in 1993, YouthWorks combines educational and career guidance, work readiness, and life skills training with an interdisciplinary Museum setting to benefit local teenagers.
YouthWorks participants begin volunteering throughout the main eight Museum galleries. This allows them a chance to become familiar with Museum policies, procedures, and most importantly the Museum's mission. We are happy to accommodate youth who may have a disability restricting them from participation on the gallery floor. In this instance, the individual may be placed in another area more suited for their abilities maintaining interaction and collaboration with other interns and staff.
YOUTHWORKS INTERNSHIP PROGRAM
The YouthWorks Internship is a highly competitive and sought after program with limited positions. To be accepted to this program indicates an individual shows the drive to grow professionally and personally. This internship is more than just a job!
While an intern will perform job assignments alongside staff members, they will also be given the opportunity to experience many different areas of the organization with the goal of providing practical experiences as a beginner in a professional environment. Further, intern positions are paid, allowing the youth an extra source of income for personal needs such as college applications, school expenses, or simply to supplement family income.
ELIGIBILITY REQUIREMENTS
The internship is offered to currently enrolled high school students ages 15 -17 years old who have completed volunteer training in all eight galleries at the Museum. Applicants must also be active volunteers in good standing.
INTERESTED IN APPLYING?
The YouthWorks Internship accepts new applications year round. Please see the Volunteer Services & YouthWorks Coordinator for more information.
Please contact (702) 382-3445, extension 110, or volunteer@discoverykidslv.org with any questions, or for help with application materials.
Apply for YouthWorks Internship
The YouthWorks Internship accepts new applications year round upon completing the Eligibility Requirements.
From their first day of school to their first A-HA moments.
We put our kids first.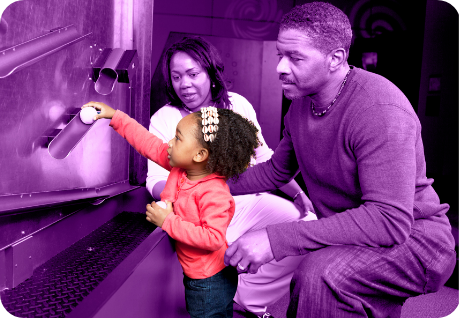 That's a FIRST made possible by the DISCOVERY Children's Museum.
As a premier educational partner in the community, we will champion collaboration that inspires every child to become an innovative thinker through the joy and wonder of hands-on DISCOVERY.