Adult Volunteers
The Adult Volunteer Program is for individuals 18 years and older who are looking for a unique and fun place to spend their valuable free time.
Adult Volunteers assist in sparking curiosity and igniting a love of lifelong learning by interpreting exhibits content to children, helping to prepare programming materials, facilitating special STEAM-themed activities, and supporting our Outreach Team at community events.
THE FOLLOWING ARE WAYS IN WHICH YOU CAN VOLUNTEER
Gallery Assistant: Assist with groups and/or families visiting the museum by enthusiastically interpreting exhibits content. Help transform the visitor experience into one they are sure to remember. Must enjoy working collaboratively with young children and adults.
Special Event Staff: Assist with preparation and facilitation of special project activity tables, fundraising events, and adult and member parties. Evening time events will vary.
Outreach Support: Assist our Learning Experiences Team with outreach efforts, helping to extend DISCOVERY Children's Museum's reach beyond the Museum's four walls.
Seamstress: Seeking volunteers to help us sew new costumes and repair existing costumes used at our performing arts stage in our Fantasy Festival gallery. We provide the fabric and the machines for handy crafters who can help us create and repair costumes for our patrons.
Summer Camp Assistance: Help our team host its award-winning summer camps right here at DISCOVERY!
A COUPLE OF COMMON MISCONCEPTIONS
Though there is a ton of opportunity for child engagement, especially for those volunteers studying child development or education, please note that our volunteers do not conduct classes or activities at DISCOVERY. We do have certain paid positions at the Museum that our volunteers are welcome to apply for that may be more suitable for those interested in presenting.
Volunteering with DISCOVERY is not a quick, in-and-out process designed to fulfill a class requirement. We do require (and appreciate!) more than just a few hours of your time.
INTERESTED? APPLY TODAY!
Volunteers are required to submit an application, apply for a background check, and attend a Volunteer Orientation. Volunteer schedules are flexible and no experience is necessary. For your convenience, a link and log in information to a quality, compliant background screener will be provided, upon receipt of your application and consent. Please note that a fee, from the screener, is associated with the screening.
Upon receipt of your application and approved background check, applicants will be invited to attend a mandatory Volunteer Orientation. Orientations normally take place twice per month.
If you have questions – please feel free to contact our Volunteer Services Coordinator at volunteer@DiscoveryKidsLV.org or 702-382-3445 ext. 110.
Volunteer Today
If you would like to join our amazing adult volunteer team, please fill out an application. You should receive an automatic email confirming that we have received your application.
From their first day of school to their first A-HA moments.
We put our kids first.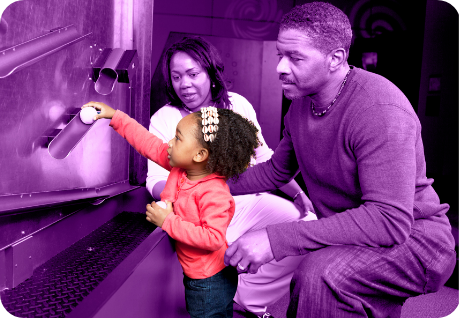 That's a FIRST made possible by the DISCOVERY Children's Museum.
As a premier educational partner in the community, we will champion collaboration that inspires every child to become an innovative thinker through the joy and wonder of hands-on DISCOVERY.